How would you like to invest a dollar in your marketing efforts and get $44 in return?  Sounds great doesn't it?  Well, that's what email marketing can bring you.  Email marketing is an incredibly profitable email tool.
As with all marketing channels, things change and shift over time.  What worked last year doesn't necessarily work this year.  Email marketing is no exception.  Therefore, I have a few tips to share with you today on what is working now in 2019 for your email marketing campaigns.
Simpler Email Design
The first thing to talk about here is simpler or no email design.  Design heavy emails look really cool and of course you tend to want something like that for your business.  Almost every email marketing provider out there includes image heavy templates with their service.  Even the very affordable providers like Aweber  and Get Response.   So, why not actually use those templates provided?  The simple answer is that they look like one big fat commercial when they hit your inbox. If you think for a second on what email is primarily used for you will conclude that it's for communicating with family and friends or work related communications. The best way to use email for business is to try to slip into your customer's inbox looking like a friend and not a commercial advertisement.  You want to present yourself as someone that is trying to guide them in the right direction for something rather than trying to sell them something.
I suggest doing what successful Internet marketers have always been doing and that is sending out boring looking ol' text emails rather than image heavy commercialized emails.  This sounds boring however these emails are more likely to be read because they look like a genuine email you might get from your friend, neighbor or co worker.  Another reason to not send those image heavy templates is because your email is more likely to be filtered into the 'promotions' tab rather than the inbox in the case of those that use Gmail.  Ultimately, just try to keep the images and links to a minimum with your email communication.
Storytelling
Next, let's talk about storytelling in your emails.  Rather than just delivering a tip, point or recommendation in your email make it a little better by including a little short story that illustrates that point.  There are whole parts of your brain that just light up and fire off when it hears a good story. Plus stories make you seem more relatable and personal especially if you are talking about something in your own past in something about a current or past customer.
Using Video
Another thing that's working now in 2019 with email marketing is using video.  Not only should you put a video in your email but you should include that fact in your subject line kind of like this:
Video:  Hottest Email Marketing Tips of 2019
Writing your subject line in this fashion is likely to double your open rates.  The other benefit to incorporating video is that people are more likely to consume your content and hear the message you are trying to get across.  People are also more likely to understand and retain your information when they are seeing it and hearing it rather than reading it from a bunch of text.  Just take whatever content you were going to put in your email and make a quick video about it.  It does not even need to be an expensive production either.  Just whip out your cell phone and do a quick selfie type of video.  It will connect just fine with your audience and get your point across.  Then, just upload the video to YouTube, take a screen capture snapshot of the video thumbnail and put that image in your email.  Remember to hyperlink the image to your actual video on YouTube.
If you are using Aweber. here is a nice tutorial on how to embed video into your Aweber email broadcasts:
Email List Segmentation
Another tip for your email marketing is to use segmentation.  Let's say you offer a few different types of services or a few different types of products.  These different products and services are naturally going to interest different types of customers.  Create dedicated email sequences for each type of product or service.  And, create different freebies or lead magnates to go along with each of those products and services.  That way, when someone opts in to get your freebie on a particular service or product they will then be plugged into a dedicated email sequence that is totally relevant to what they are looking for.  This is powerful because you have different customers that have different goals and needs they are looking to get met.  If you don't do this, you end up sending out a mixture of content that ends up not being relevant to a particular customer and they end up unsubscribing from your list.
Re-engaging or Scrubbing
Next I want to talk about re-engaging or scrubbing your list.  It's great to have a big list but it's even better to have a quality or responsive list that actually opens your emails or is looking forward to hearing from your every week or even every day depending on how often you choose to email
If you have a big list of people that are not opening up your emails, you run a bigger risk of getting flagged as spam.  This sends bad signals to email providers like Gmail or Yahoo.  If you get a high unsubscribe rate or get a lot of spam complaints your emails will start to automatically go to the spam folders of your recipients.
Another reason you want to have a lean list comes down to cost.  Your email marketing platform typically will charge you based on how many subscribers you have.  Why would you want to pay for 500 or 1000 or 10,000 unresponsive email subscribers and or risk having your emails go straight to spam folders?
So how do you get a leaner more responsive list?  Run a re-engagement campaign.  Segment out people that haven't opened any of your emails recently and send them re-engagement emails.  I recommend creating a series of 4 emails with value that are not selling or promoting anything at all.  Drip out those emails over 4 weeks time.  At the end of those 2 weeks, take everyone that hasn't opened up any of those emails and kick them off your list.  When you get rid of the subscribers that don't want to hear from you it is going to improve your deliverability and results from the people that DO want to hear from you.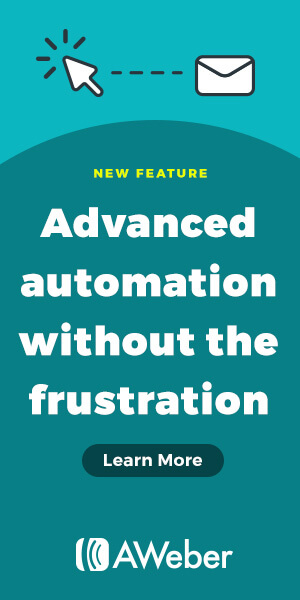 Please follow and like us: